A Complete Guide To Real Estate Painting Business For E2 Visa
This article discusses the painting franchise business, including the industry itself, the benefits of starting a painting franchise, and the pitfalls to avoid. Along with information on the E2 visa and the benefits of applying through E2VisaFranchises.com
Real Estate Painting Business Overview
The $31 Billion Market In The US
One of the indications of a well-kept and stylish property, be it a residential home or a commercial space, is fresh professionally-painted walls. But most people find the task tedious—it takes effort, a lot of time, and skill to do it right, and that is what a Painting business is about.
In 2022, the total market value of the painting and coating industry was $31 billion in the US alone, and it is projected to reach a market value of $33.4 billion by the end of 2023. This value has steadily increased since 2015, from $22.36 billion to $31 billion as of 2022. Likewise, the revenue in the paint, wallpaper, and supplies segment is projected to increase, amounting to $50.16 billion by the end of 2023. This is expected to increase further at a compound annual growth rate of 2.63 percent from 2023 to 2028. Around 255,000 businesses in the US offer painting services, employing over 430,000 people.
Moreover, a 2017 survey conducted in the US showed that fifty-one percent of participants would rather hire a professional to paint and decorate their properties rather than do it themselves and risk subpar results or property damages. This information denotes a substantial interest in interior and an exterior design by homeowners and other property owners, making starting a painting business a lucrative option for a foreign investor looking to enter the US market via an E2 visa.
To succeed in the US market, the painting business must target properties of all kinds—from homeowners, apartment and condominium buildings, industrial spaces, commercial properties, and beyond. Likewise, interior designers and real estate agents who may need help decorating or refurbishing a vacant property are prime targets. Foreign investors can consider specializing in specific interior and exterior painting styles to have a niche that will differentiate the business from competitors. They can also consider partnering with a paint supplier for the best quality paints from a reputable and trusted brand.
Knowing potential clients' needs is incredibly important. Homeowners and interior designers may opt for decorative treatments like faux aging, stenciling, or sponge painting. Or, for property owners in historic areas, painting in the style of Victorian or Colonial homes can be an option using authentic historic colors for antique homes. The business can also offer color and wallpaper application consultations as part of the service.
To reach and sell to different client types, the foreign investor must take marketing actions, such as sending brochures, leaving flyers on doorsteps, and networking with interior designers, real estate agents, and contractors. Local ads can also be placed, and free social media pages can be utilized to their advantage.
Of course, there are franchises to consider for foreign treaty investors interested in starting a painting business but not necessarily wanting to start from scratch.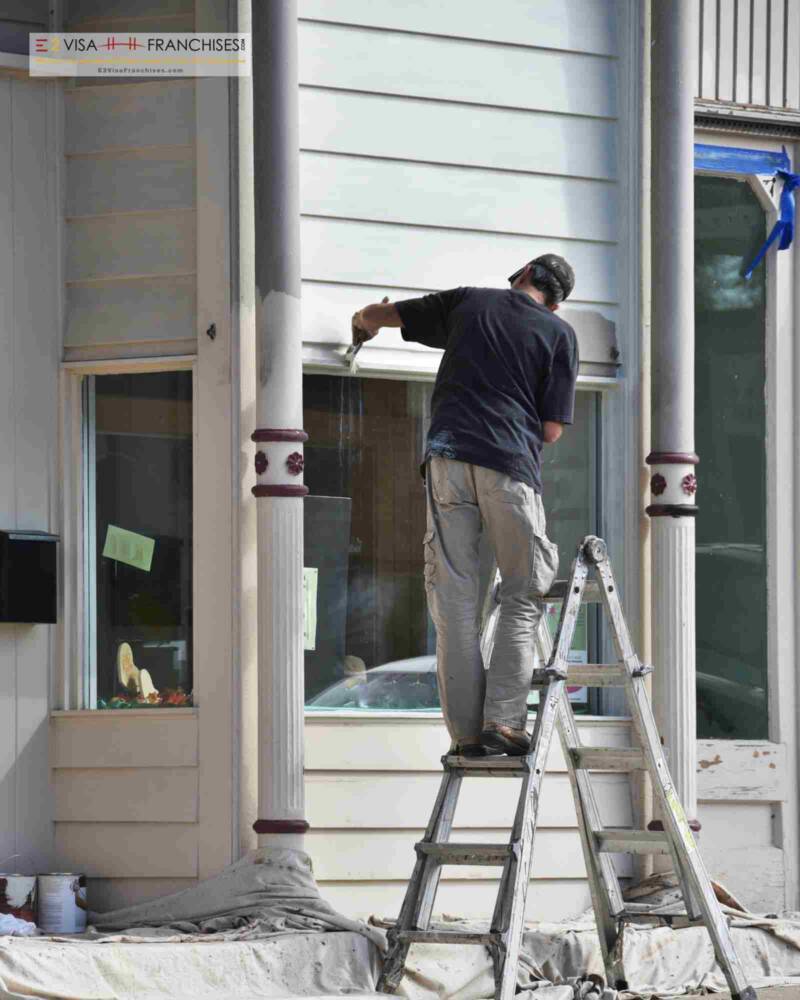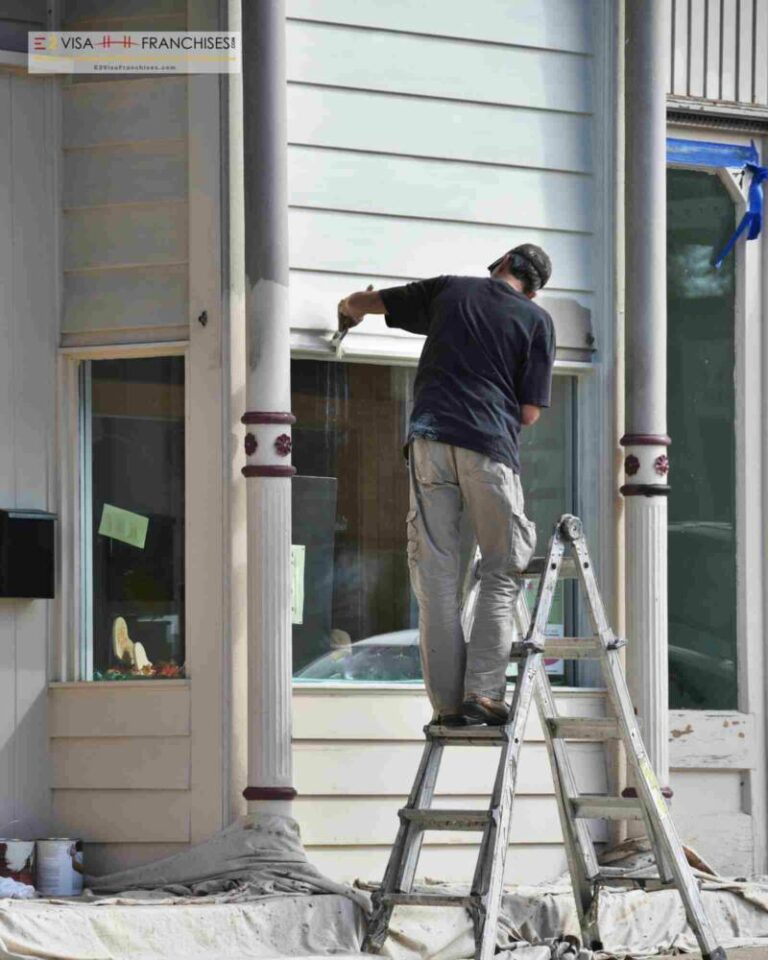 Real Estate Painting Franchise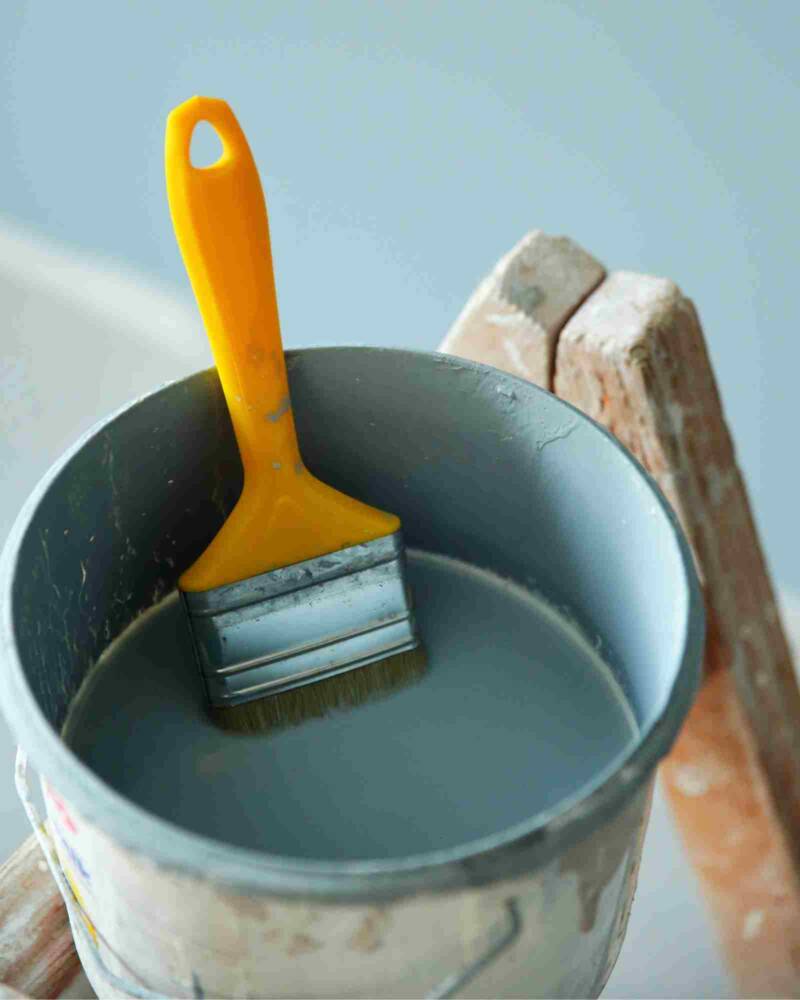 Understanding The Business Model
Doing a good paint job requires practice, precision, and patience. In other words, it takes skill and experience. Because it is time-intensive, many property owners—be it commercial, industrial, or residential—prefer to outsource the painting of their properties, both inside and out, to a professional painter. As long as the construction industry remains strong, there will always be a need for painting businesses. However, it does not have to be a daunting thought to start a bona fide US real estate painting business. With franchising, investors no longer have to worry about starting from scratch or learning the secrets of the trade from ground zero.
Franchising is a license granting a franchisee the right to a franchisor's proprietary business knowledge and processes. It trademarks, allowing the franchisee to sell a product or service under the franchisor's business name. The franchisee must then pay the franchisor an initial start-up fee, annual licensing fees, royalties, and whatever both parties agree upon other fees.
Find The Best Real Estate Painting Franchise.
Why the real estate painting franchise is a top choice?
10 Benefits of Starting a Real Estate Painting Franchise
A painting business is one of the seamless business options for entrepreneurs. With franchises, the process is made even simpler. Here are ten benefits of starting a painting business through franchising:
No experience necessary – since this is a franchise, the franchisee will not require prior experience in the real estate painting industry to start their own. All that is required is substantial capital, and the rest of the processes will be according to the franchisor's established business model. Most franchise agreements also include, by default, a training period the franchisor provides to the franchisee and their employees. Any additional training is also available, usually for a fee, if things do not pan out on the first try. Therefore, franchising is a perfect option for any first-time entrepreneur or those with no prior experience related to the property painting business.

Established branding – since the main advantage of starting a franchise is its established branding and business process, there is a low risk of failure. Despite this, interested investors must still research and check how successful other franchisees in the network are before fully committing.

Established customer base – like with established branding, there is usually an established customer base for franchises. Franchises are easily recognized and are considered trusted by customers. Thus, people are less apprehensive about buying a franchise's service or product than trusting an unknown start-up with no proven track record. Therefore, franchises tend to be easier for customers to trust.

The exclusive right to a specific territory – usually, franchisors will not sell any other franchises in the same territory to ensure that the franchisee succeeds in that location. This is a common agreement that ensures a win-win for both parties and spreads out the business further. Additionally, there are usually existing relationships, so the franchisee does not have to worry about building relationships with distributors or suppliers. The franchisee can also benefit from communicating with and sharing ideas with fellow franchisees in the network without directly competing since they will also have their territory.

Diversify income sources – by targeting different customers, such as homeowners, builders, landlords, interior designers, real estate agents, etc. Foreign investors can have different potential sources of income for their real estate painting franchise.

Flexibility– a painting business can be flexible. It is up to the owner which clients they want to accept and when, and as long as paint jobs are getting done on schedule and supplies and equipment are up-to-date, there is not much to get in the way of the owner's time. The franchisor's business model can also be a key here to expedite processes even further since there are already established methods of conducting activities. Owners can choose clients, job types, contractor qualifications, etc.

High-demand – as long as the economy is good and the construction industry is growing, there will always be demand for painting services. Businesses that grow will need commercial spaces built and painted. Likewise, existing and new homeowners need professional painting services too. In fact, due to the recent COVID-19 housing boom, many Americans with second or vacation homes will surely need freshly painted walls.

Simple process – painting is a tedious process that tends to put off homeowners from doing it, but that is exactly why it is a lucrative business idea for investors. Those willing to take on the labor will find the process simple. It can be easily learned, especially with the guidance of an established franchisor with an efficient model.

Scalable – once the investor's first franchise is up and running, investing in more locations is the next step to scaling. Additionally, trends are constantly changing, thus prompting property owners to hire for a painting jobs. If there is a surge in demand for paint jobs, business owners can hire part-time contractors to complete various projects on time.

Focused business – a painting business tends to be very focused. It has a simple concept—to paint and design walls—with possible side offerings of wallpapering, complicated art styles, historically accurate design, etc. Investors can choose a niche to specialize in and tailor their franchise options to suit their personality or passion.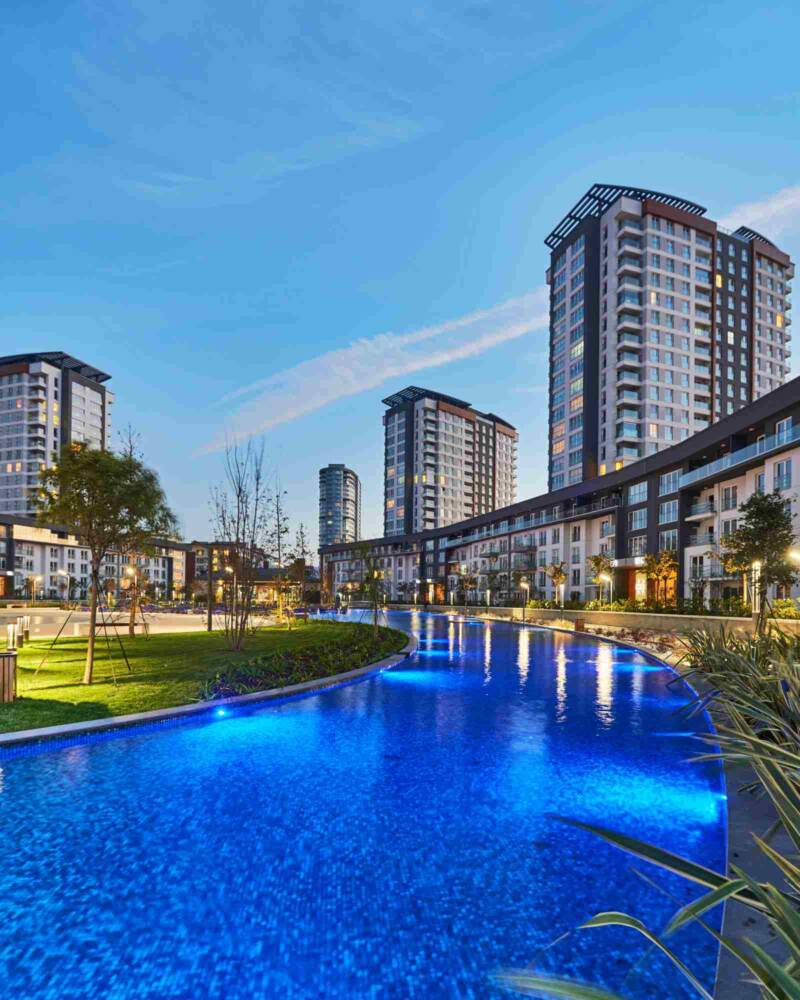 What should you beware of when investing in the business?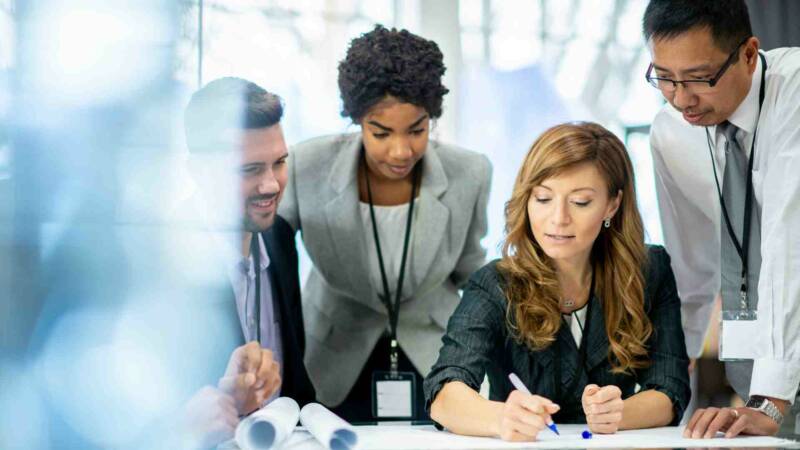 5 Pitfalls To Avoid When Selecting A Real Estate Painting Franchise
Though there are many benefits to starting a real estate painting franchise, there are also pitfalls to avoid to ensure success:
Restrictions – investors must be aware of the franchisor's limitations and restrictions that they expect all franchisees in the network to adhere to. These rules are usually rigid and strictly followed since franchises must remain consistent despite having separate owners. Thus, foreign investors must be aware of this first and avoid selecting a franchise with limitations they do not align with.

Barriers to Entry – investors must consider possible barriers to excelling and expanding business operations when selecting a painting franchise. For example, possible competition in a certain territory, especially in bigger cities with plenty of existing painting businesses. Investors will want to carefully select a franchise with an appropriate competitive edge in such an area.

No Business Planning – although a franchisor's established business model is one of the perks of franchising, investors should not fully rely on it. A business plan will still help keep investors on track regarding what to do and how to do it. It is important to be certain about the time and resources required to make the franchise successful and ensure no investment is wasted by quitting halfway.

No Grasp of Earning Potential – investors need to be clear about the franchise's earning potential before buying into it. They must ensure clarity of solid financial figures and not just estimates. One way to do it is to speak to existing or previous franchisees for honest feedback and experience.

Underestimating Cash Flow – it is important to remember that businesses do not generate profits immediately or right from the start. Sometimes, little to no profit is reached in the first few months of operating before breaking even and profiting. Investors should have realistic expectations and sufficient working capital to wade out the possible slow beginnings before the business starts gaining traction.
What is the E2 Visa Qualification?
3 E2 Visa Key Requirements
The E2 visa is a non-immigrant visa for investors who enter the United States under a treaty of commerce and navigation between the country of which they are a national or a citizen and the United States. It also applies to countries with which the United States maintains an international qualifying agreement or has been decided to be a qualifying country via legislation. The list of qualifying treaty countries can be found on the US Department of State – Bureau of Consular Affairs website.
E2 visas grant foreign investors the right to start or purchase a bona fide US business and work for their business. However, it is a non-immigrant visa, thus not allowing the applicant to gain a Green Card or permanently immigrate to the US. However, it allows them and their dependents to come to the US to live and work. Spouses and children over 21 are welcome to join the principal applicant. The visa will renew indefinitely as long as they qualify for the E2 requirement and the E2 business continues to operate and remain profitable.
To qualify for the E2 visa, the treaty investor must:
Be a national of a country with which the United States maintains a treaty of commerce and navigation or a qualifying country by legislation or agreement with the US.

Have invested or be in the process of investing a substantial amount of capital in a bona fide enterprise in the US. The capital must come from legal means, and the evidence must be shown. A substantial amount of capital relates to the total cost of establishing the business or purchasing an existing US enterprise. The lower the cost, the higher the investment must be considered substantial enough to support the treaty investor's successful direction and operation of the enterprise. A legitimate enterprise is an active and operating entrepreneurial undertaking providing services or products that produce profits and meet local legal requirements.

Seek to enter the US with the sole purpose of developing and operating a legitimate US enterprise. They must also own at least fifty percent of the enterprise or possess substantial operational control through a managerial position or other corporate devices.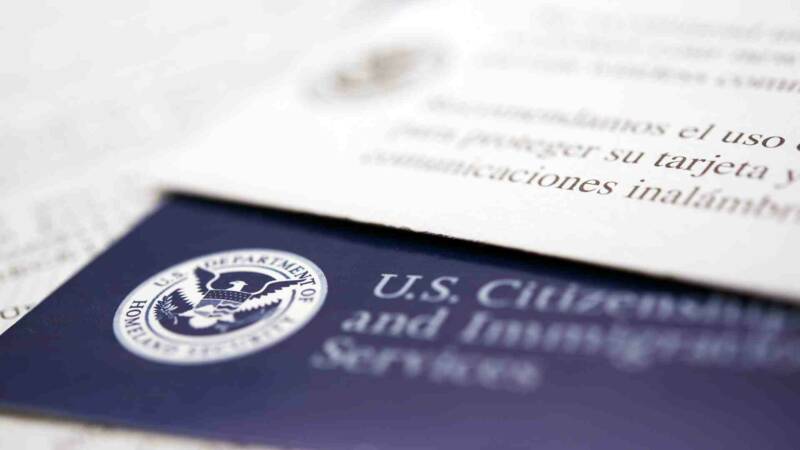 Secure Your E2 Visa Today and Live Your American Dream.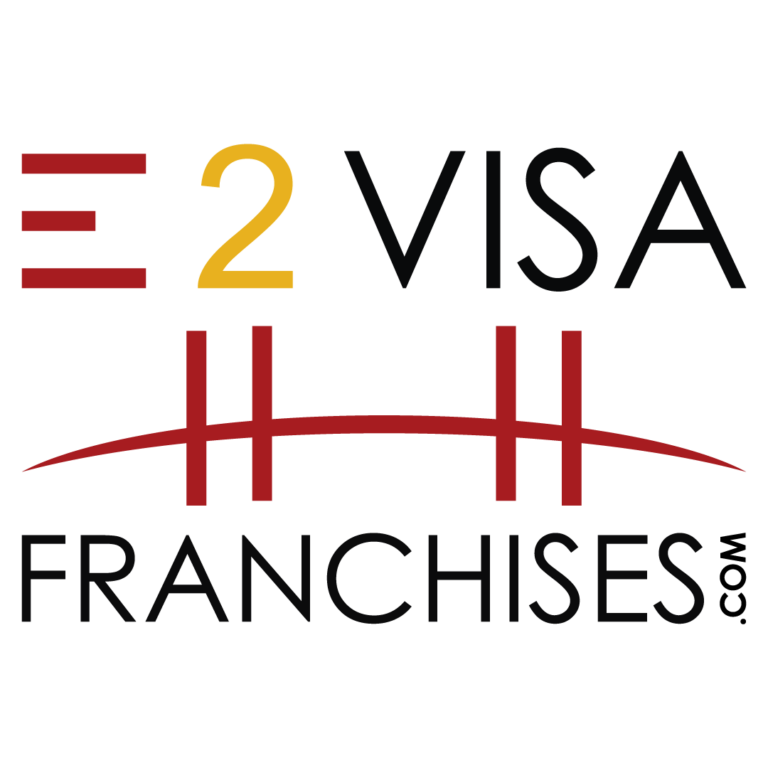 Benefits of Applying Through Us
A start-up business faces many challenges in the growing market of the US. Most E2 visa applicants miss important variables when selecting a business to operate. With E2VisaFranchises.com, these problems can be easily avoided.
Proven track record – E2VisaFranchises.com has worked with over 1,600 E2 visas since its establishment in 2004. Clients can be assured that the company has adequate experience and expertise in applying for E2 visas with various types of businesses.

Free consultation – E2VisaFranchises.com offers a free consultation service for foreign investors who are hesitant or unsure of which franchise suits them. You can click here or via email ([email protected]) or phone (+1-646-461-4099).

Comprehensive service – E2VisaFranchises.com will help interested clients with their E2 visa from the beginning until the visa's approval, guiding and supporting them along the way. No question is ever too much. The company helps with interested investors' projects, professional experience, choosing the right franchise, introduction to companies, contract processes, and the E2 visa application itself from start to finish. It includes a franchise selection process with an immigration attorney, a merger and acquisition service, a business plan service, and a market research service.

Easiest path – E-2 is the easiest path to starting a business in the US. Compared to the EB-2 and L-1 visas, the E-2 is easier to obtain and allows access to candidates, their partners, and children under 21. It is generally obtained for five years and is easily renewable. With the help of E2VisaFranchises.com, the process is made even simpler and stress-free.
Frequently Asked Questions
Do I still need business plan if I invest in franchise for E2?
Yes. Regardless it is a franchise or not, you will be required to submit a business plan.
How much budget do I need to buy a franchise?
It varies depending on the franchise. However, for E2 Visa we always recommend to go with a minimum of $100,000 investment.
Do I need to be fluent in English?
Yes, usually we ask our clients to do intensive English course for 1-3 months before the interview process.