The Complete Guide of The US Cleaning Business for E2 Visa
Find out about cleaning business profitability and trends in the US, the pros and cons of the business, and how to leverage the current market.
The Cleaning Business Overview
Why is it such a profitable investment in the United States?
Every home needs to be cleaned, which makes the cleaning business a highly profitable venture and one of the most recession-proof industries. Between vacuuming floors and taking the trash out, Americans spend approximately six hours weekly doing home maintenance-related tasks. Time is a precious resource for people juggling full-time jobs, taking care of children, and handling other obligations, which is why most residential consumers hire professional cleaning services.
Cleaning services are also regularly performed in commercial places like offices, malls, and restaurants. These businesses outsource professional cleaners to maintain establishments' cleanliness and will require continuous services regardless of the fluctuating economy. This demand signifies that, unlike other markets, cleaning services generate consistent demand and that cleaning companies will hardly lack business all year round, even when there is an imminent recession.
Studies have also shown that having a clean place to live and work is important for more than just practical reasons. It also positively affects mental health, as clean and organized spaces help improve people's focus and productivity. In addition to individuals' busy lifestyles and businesses' need for regular cleaning services, increased awareness about the importance of clean, organized, and hygienic environments contribute to the increasing demand for cleaning services.
Numerous businesses and opportunities are available in the professional cleaning industry in the United States, whether specialty cleaning services for windows, carpets, and floors or general home and business cleaning.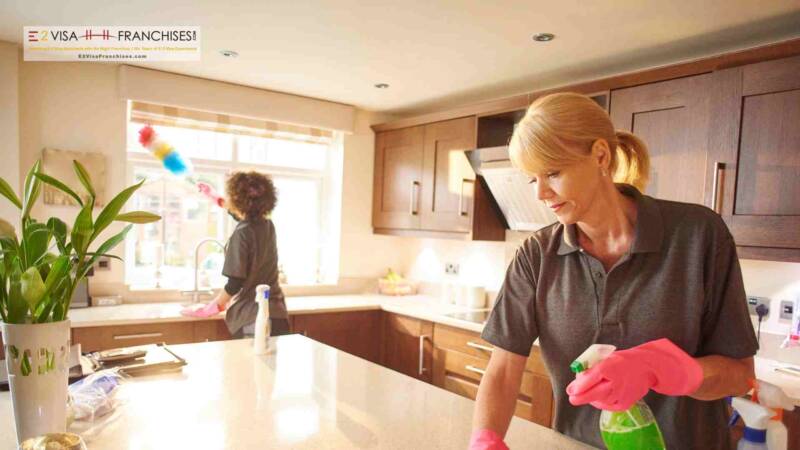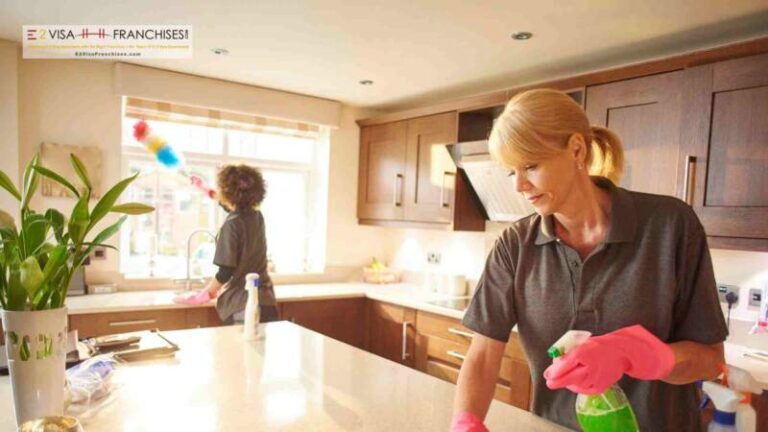 Driving factors: What propels the demand for professional cleaning services?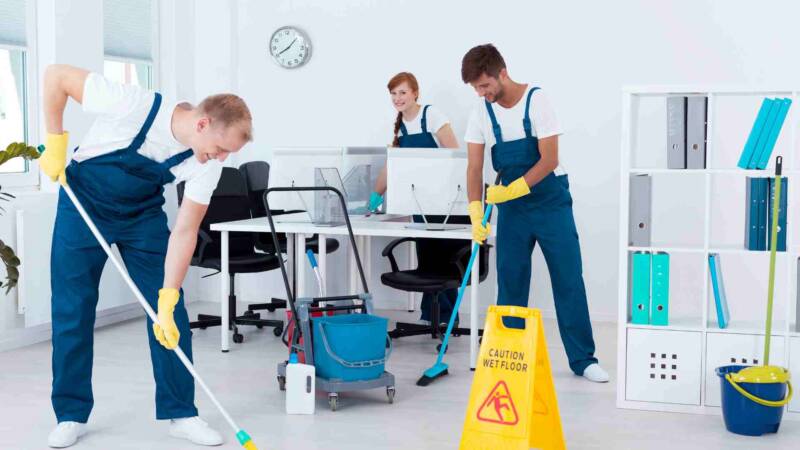 What are the market trends in the US cleaning business?
In 2020, the US professional cleaning services market reached $46 billion, with the United States being the dominant country in revenue share. More than 1.7 million people are employed in the professional cleaning industry. Yet, the market is still anticipated to experience a 6% year-on-year growth in new jobs until 2026 due to increased demand from residential and commercial consumers.
Growing urbanization
As urbanization accelerates, new commercial structures, office spaces, and residential buildings will be built. Consequently, the demand for highly advanced cleaning services, such as vacuuming, upholstery cleaning, power washing, and electronic device cleaning, will continue to rise.
In addition to expanding the commercial sector and real estate investment, increasing discretionary income and the rise in dual-income households fuel the demand for professional cleaning services. These factors are expected to raise the market revenue for cleaning services in the coming years.
Rising consumer awareness
The COVID-19 pandemic has raised awareness about home and workplace cleanliness and sanitation, accelerating the market growth of the professional cleaning service industry. According to the World Health Organization, proper and regular disinfection techniques are important for houses, offices, and commercial spaces to mitigate the risk of infection.
Governments of numerous countries have released guidelines that commercial establishments must comply with to reduce the risk of subsequent waves of the existing COVID-19 pandemic. Businesses must follow these standard operating procedures to maintain the safety of their staff and customers and avoid legal action.
Technological improvements
Technological improvements facilitated the development of more efficient cleaning machines, which greatly reduced cleaning times and contributed to the overall growth of the professional cleaning services market. The available machines, including automated floor cleaners, scrubber dryers, and robotic vacuum cleaners, accomplish some of the most time-consuming repetitive tasks faster and help protect the environment with their lower carbon footprint.
Further, marketing and scheduling automation software for cleaning services makes it more convenient for companies to reach their target consumers, promote their services, and schedule appointments. Companies engaged in residential and commercial cleaning services also use these software applications to analyze data metrics, allowing them to improve their performance and renew existing contracts with their customers.
Achieve Your American Dream Today With E2 Visa. Take The First Step.
Market Trends For Residential Cleaning Services
In 2021, the residential cleaning services market in the United States was estimated to generate $1.5 billion, with the US accounting for the largest share (22.3%) of the global market. Market revenue is projected to reach $7.27 billion by the end of 2023 and grow annually by 3.02% until 2026. The expansion of dual-income households drives the growth in the residential cleaning services segment, owing to the increasing preference among working professionals and young adults to hire cleaning companies to save their time.
Rising awareness among consumers about household cleanliness and sanitation is also one of the primary driving factors for the market growth of residential cleaning services. The increased demand for natural, green cleaning solutions and household cleaning products also presents opportunities for further growth from 2021 to 2026. Lastly, the rising geriatric population contributes to the demand, as seniors cannot clean their homes and need assistance with daily routines. Other important statistics to note: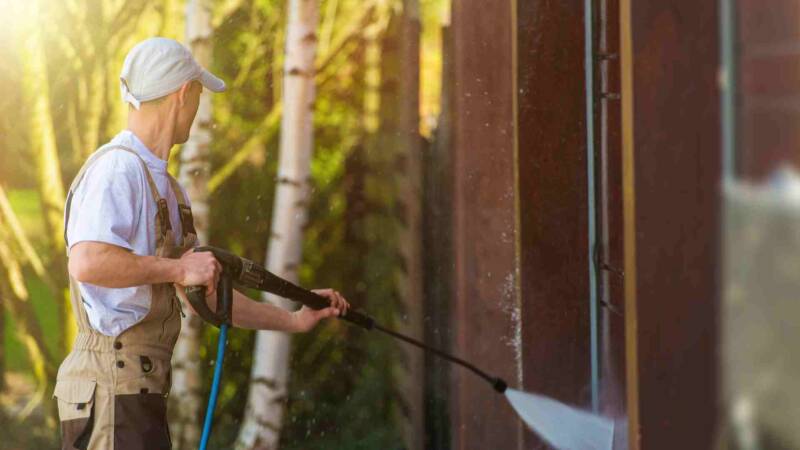 Market Trends For Commercial Cleaning Services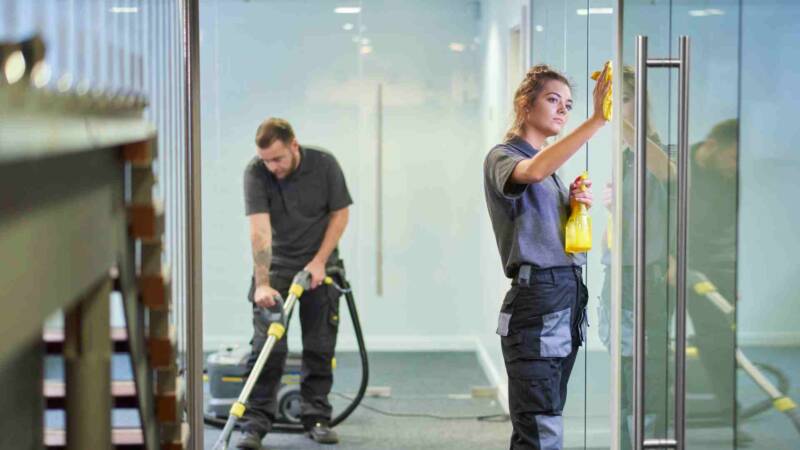 Projected To Grow 5.4% growth Annually
In 2020, the commercial cleaning services segment accounted for most of the market share. It is projected to continue generating the highest revenue in the market due to the continuous expansion of the commercial real estate sector, resulting in the need for consistent cleaning among commercial properties, such as offices, hospitals, malls, restaurants, and clubs. The industry employed a significant portion of the American population and was worth nearly $100 billion in 2022.
The growth can also be credited to the rising concerns about workplace sustainability and the growing awareness of workplace hygiene, which is important in maintaining employee well-being and a conducive work environment. For these reasons, businesses, particularly large corporations, hire professional cleaning companies to provide regular cleaning services. Other important statistics to note:
What are the challenges to the cleaning business?
Despite the positive market trends, the US professional cleaning service industry faces challenges like any other industry.
Fierce competition
The professional cleaning services market comprises numerous companies offering similar cleaning services and benefits to residential and commercial consumers, resulting in stiff competition that may deter newcomers in the industry. The strong competition also pressures companies to increase the affordability of their services and create unique service packages that suit their customers' needs.
Rising costs
While a cleaning business has lower overhead costs than other businesses, supplies, labor, and benefits are rising, posing challenges for companies in the professional cleaning service industry. Cleaning service providers may reduce costs by negotiating bundles or deals with their product suppliers or passing down costs to clients, which may lead to losing customers if not implemented properly.
High turnover rate
Staff retention is another pressing problem among cleaning companies, as excessive turnover, inadequate training, and low morale characterize the cleaning service industry. A company with a high turnover will have more expensive hiring and training costs. Companies may also lose money if they are understaffed or if their employees need to be better trained and meet the expectations of their customers.
COVID-19 pandemic restrictions
From 2019 to 2021, the professional cleaning services market experienced a sharp decline in cleaning services due to the partial and permanent shutdown of establishments following government protocols and lockdowns. Non-essential businesses may again face restrictions as the series of COVID-19 waves and resurgence in infections continue, negatively impacting the overall market share in the cleaning service industry.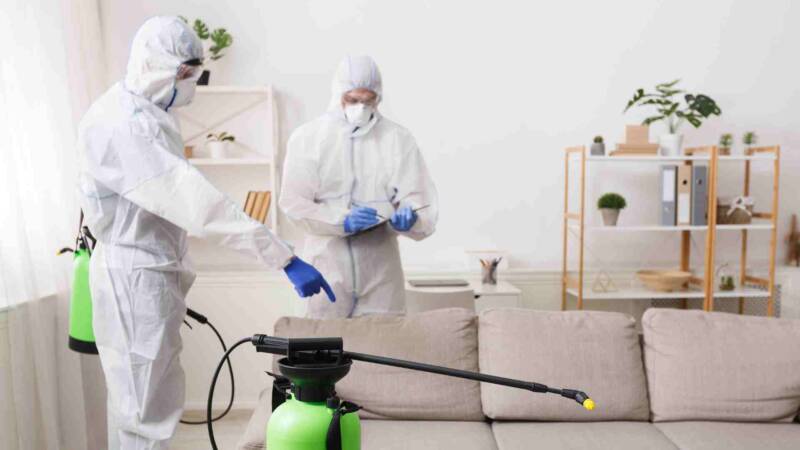 Discover The Best Cleaning Franchise Today. Let's Connect.
What are the opportunities for the cleaning business?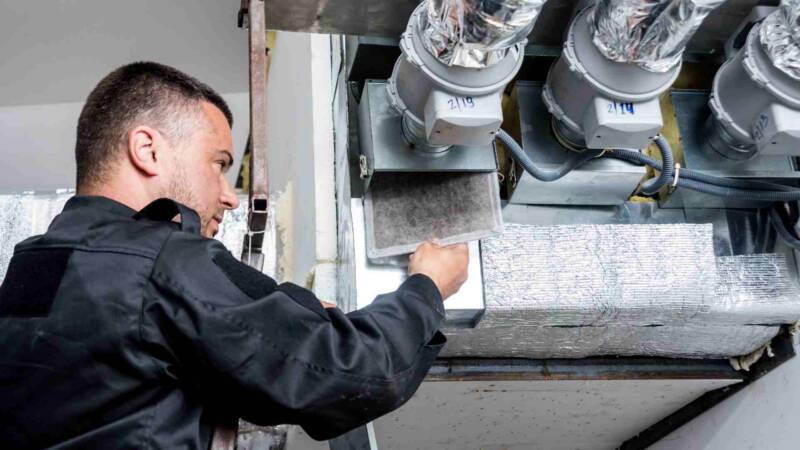 The following presents businesses and newcomers to the professional cleaning services market with growth opportunities:
Heightened awareness of cleanliness
Despite the decreased demand from commercial establishments at the onset of the COVID-19 pandemic, the professional cleaning services market experienced positive growth as government restrictions eased and business operations resumed. Further, the pandemic heightened people's awareness of maintaining a clean and hygienic environment, offering numerous growth opportunities for market players.
Increasing demand for green cleaning solutions
The increased popularity of more sustainable techniques and green cleaning solutions contributes to the overall growth of the US professional cleaning services market. More and more cleaning companies implement sustainable procedures to satisfy customer demand and reduce chemical and water consumption, helping businesses save money and lessen their negative environmental impact.
High preference for specialized services
Cleaning companies can take advantage of the need for specialty cleaning services, such as lawn care, general facility maintenance, event clean-up, upholstery care, and HVAC cleaning, to increase their value in the market. To do so, cleaning companies must invest in technology and regular training programs to offer these niche or specialized services efficiently and effectively.
Advancements in technology
Technological advancements provide cleaning companies with another way to attract business and develop a robust customer cleaning program. The emergence of robotics, such as autonomous mobile cleaners, makes cleaning more convenient by accomplishing simple, repetitive tasks like sweeping floors. Further, enterprise resource planning (ERP) cleaning software help companies automate their operational workflows, improving efficiency and productivity.
Is a cleaning business a good investment for an E2 visa?
Benefits Of Investing In Cleaning Business
Cleaning is necessary—a job that will always be needed as long as there are homes, offices, and buildings. Industry reports indicate strong demand for residential and commercial services over the coming years, presenting ample opportunities for startups and franchises. Thus, owning a cleaning business can provide investors various benefits, including stable income and flexibility.
Below are seven reasons why owning a cleaning business is a wise investment:
Quick and easy to establish
Cleaning businesses are quick and easy to set up. They can be operational once the owner has registered the company, gotten insurance, purchased necessary tools and products, and approached initial customers. The starting capital for cleaning businesses is also low since owners do not need a physical office and can market their services through various online listings and platforms. Additionally, owners may only start with essential tools and invest in sophisticated equipment later on as their operations and customer base grow.
Stable industry
Investing in a cleaning business means investing in a stable industry that has survived the economic downturn caused by the COVID-19 pandemic and is on a steady path to growth and expansion. Residential and commercial cleaning services are forecasted to enjoy year-on-year growth in the coming years due to the constant need to maintain cleanliness and hygiene in commercial and residential properties. Further, as part of a stable industry, cleaning businesses have a diverse and reliable customer base, unlike brick-and-mortar businesses, such as restaurants, that often have to implement creative measures to attract customers.
Regular income
The high demand level provides cleaning companies with an excellent opportunity to generate consistent revenues. Cleaning tasks will always be required, regardless of the season and even during a recession or pandemic. Contracts with customers require cleaning services weekly or a few times a week, meaning that business owners would have a regular stream of income that could bring great cash flow. Cleaning businesses are also easy to scale, and companies can add more employees easily once demand increases.
Work-life balance
A cleaning business allows business owners to have flexible working schedules that help them achieve work-life balance. Business owners can set their hours and days of work and have independence and autonomy in settling decisions about their professional lives, including deciding how many clients they wish to work with weekly or when to take breaks. This gives business owners more time to spend with their loved ones and the ability to pursue their other interests.
Franchise support
Aside from starting their own cleaning company, business owners can partner with nationally recognized franchise companies. Partnering with a cleaning franchise provides entrepreneurs with an opportunity to receive excellent returns on their investment, as cleaning services are one of the most successful concepts in the franchise industry. As franchisees, business owners will receive regular support from franchisors, including but not limited to in-depth training, pre-opening and ongoing assistance, supplier negotiation, and marketing support.
Low overhead costs
Running a cleaning business entails minimal overhead costs since companies can use the same tools as long as they are functional and only buy new equipment if they intend to offer specialized cleaning services. Overhead typically consists of indirect expenses, such as transportation and supplies, that can be offset with a well-developed price structure. In addition, there is no need to spend a large amount of money on complex advertising since many new accounts will be generated from referrals and word-of-mouth promotion.
A high chance of repeat business
While operating in a stable industry guarantees consistent demand for cleaning companies, business owners still have to ensure high-quality services to maintain their customer base, generate repeat business, and achieve steady revenues. Having guaranteed repeat business is advantageous for investors as increasing their revenue and profitability is crucial in maintaining healthy business growth.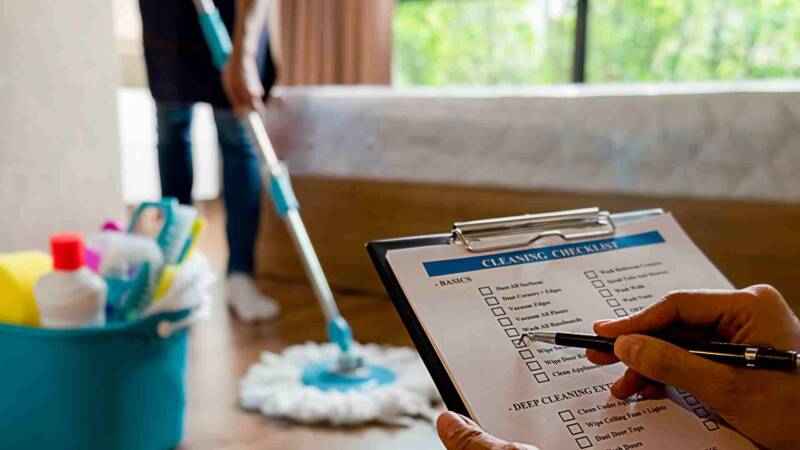 How much annual income does a cleaning business make?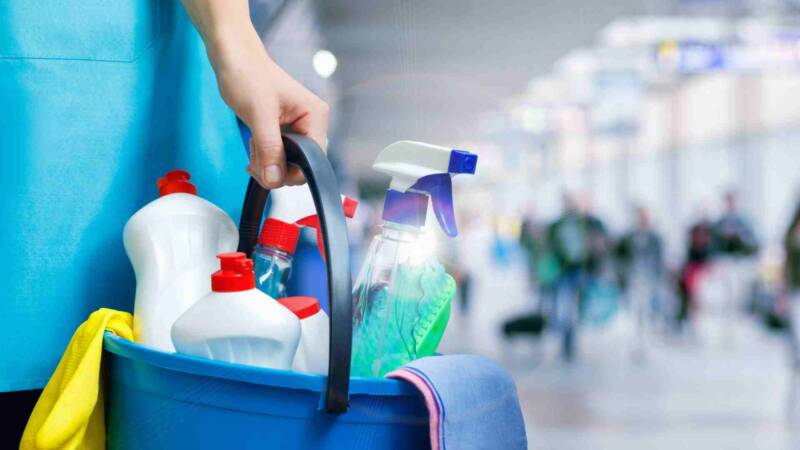 The Sales and Profitability
According to GetJobber.com, residential cleaning companies could earn $31,200 to 39,000 annually (excluding taxes, insurance, and other deductions) if they charge a flat rate of $120 to $150 per home and clean five homes per week for a year. Their gross annual income can increase if they charge a higher rate, provide specialized cleaning services or add-ons, and accomplish more daily jobs.
On the other hand, commercial cleaning businesses could earn $1,100 per visit if they charge a 10,000-square-foot facility $11 per square foot, the average rate for commercial cleaning services in the US.
A good profit margin for a cleaning business ranges from 10% to 28%. If a commercial cleaning company generates a total revenue income of $800,000 and has expenses amounting to $600,000, its net income is $200,000, with a profit margin of 25%. This shows that a cleaning business is profitable if companies charge the right rate for the right mix of services.
We Search Through Hundreds Of Top Franchises To Find The Right One For You.
What should I beware of before investing in one?
Disadvantages Of Owning A Cleaning Business
While having a cleaning business offers many advantages, there are also cons that E2 visa investors should be aware of before deciding to venture into the professional cleaning service industry.
Stressful work
Running a cleaning business is as stressful as any other business. Business owners must manage work schedules, employee wages, and legal compliance. Many variables, such as overseeing advertising and customer complaints, must be handled daily.
A highly competitive business
The professional cleaning service industry is highly competitive, with numerous startups entering the industry yearly. Cleaning companies must make their services more attractive to potential customers to stand out from the crowd and gain a competitive advantage against market players.
Competing on pricing
To succeed in a competitive market, cleaning companies always compete on pricing with competitors who can offer the same services at cheaper rates. Businesses are compelled to offer better prices or lose their contracts with their existing customers. While price reduction is necessary to remain competitive, cleaning companies should also focus on providing service quality and maintaining reliability to set them apart from the competition.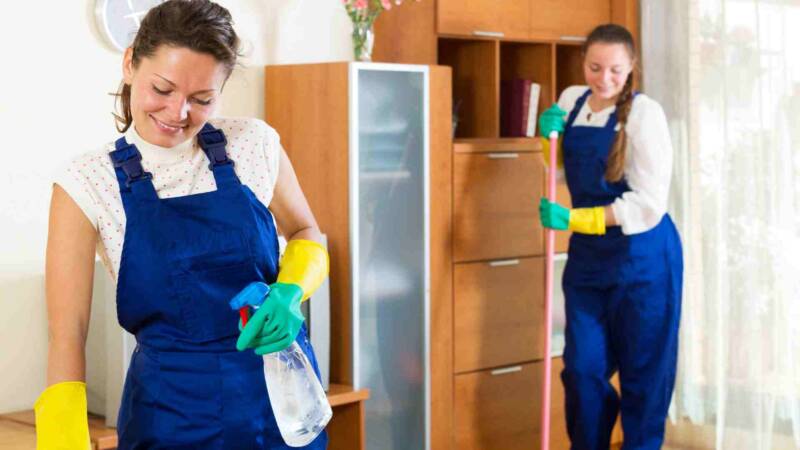 How to invest in a cleaning business franchise?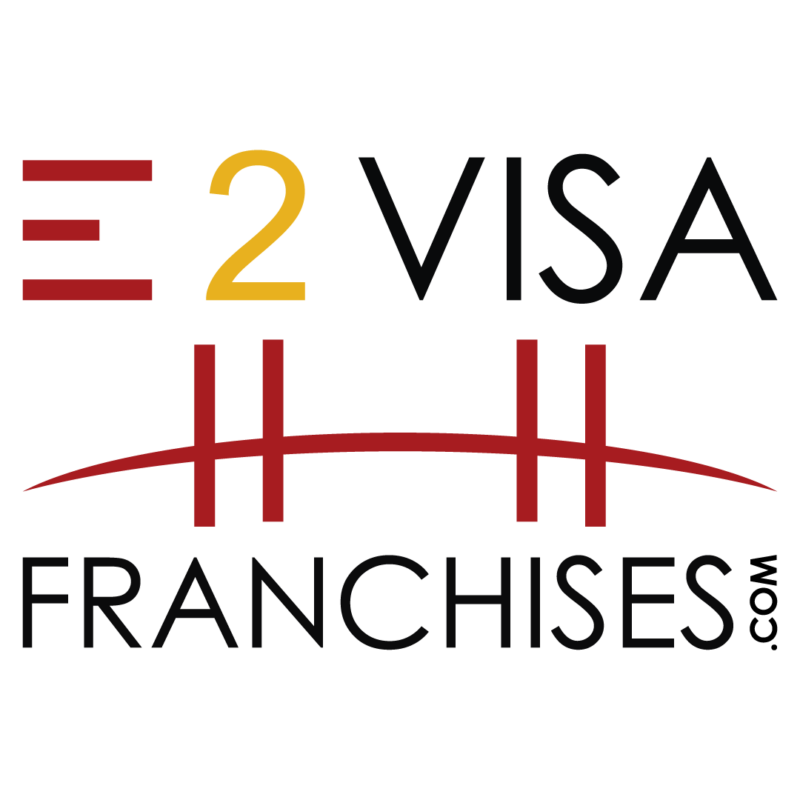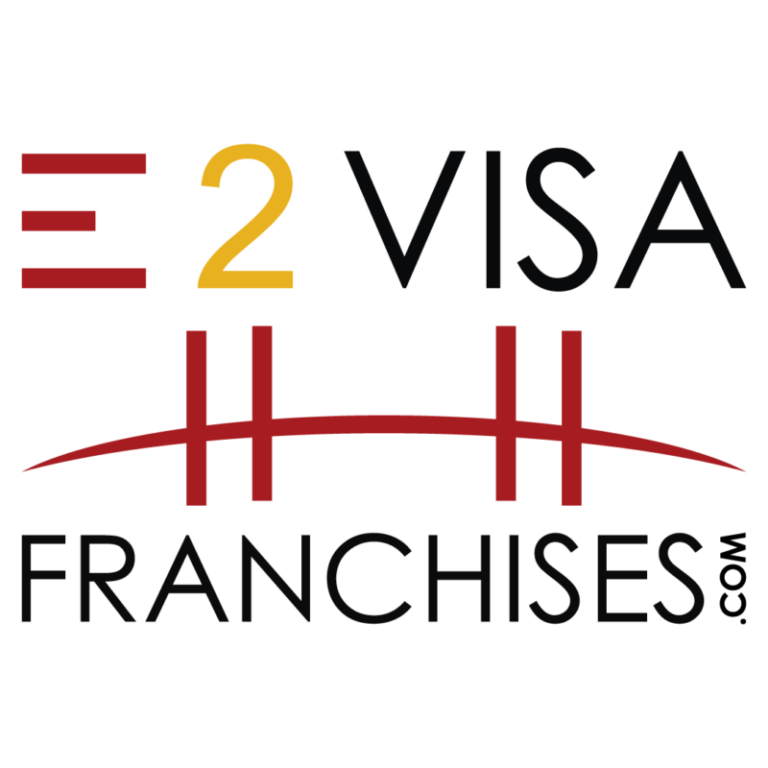 How much is the investment?
Starting your own cleaning business requires a lot of investment, effort, time, and energy. Many investors would prefer to partner with an established cleaning business franchise since they can greatly benefit from a franchise company's brand name, existing customer base, marketing and advertising support, and training programs. Investing in a franchise cleaning business also entails lower costs and lesser risks than starting a cleaning company from scratch.
Most franchise cleaning companies require investors and business owners $15,000 to $100,000 for initial investment, $4,000 to $20,000 for liquid cash requirement, and $10,000 to $100,000 for franchisee fee. Other fees, such as marketing fund contributions and royalties, also vary depending on the franchise companies.
At E2VisaFranchises.com, we aim to find the best franchises for E2 visa investors. We work one-on-one to understand your business goal and preference to bring you the curated options of top E2 eligible franchises. Consult with us today to learn more.
Frequently Asked Questions
Can I bring my family under E2 Visa?
Yes! And it is one of the best perks of having an E2 Visa.
Can my spouse work in the USA?
Yes! As an E2 dependent, your spouse is eligible to work anywhere in the USA.
Can I bring my children under E2 Visa?
Yes, as long as your children is below 21 years, you can bring them with you.