Top 3 Benefits Of Working With A Franchise Consultant For An E2 Visa Franchise Investment
This article covers what a franchise consultant is, what they do, and why it is important to hire a certified franchise consultant for your E2 visa application.
What is a franchise consultant?
What does a franchise consultant do?
Franchise Consultant are professionals who provide comprehensive guidance and support to potential franchise owners and investors in navigating the intricacies of the franchise industry. They act as trusted advisors and offer valuable insight and direction to those who are new to the field or lack experience.
For investors seeking to start a franchise business, the expertise of a Franchise Consultant greatly helps them make informed and confident decisions. By leveraging Franchise Consultants' wealth of knowledge and expertise, investors can understand the franchise industry clearly, including the various types of franchises, the requirements of each, and the opportunities and challenges each presents.
Aside from providing guidance, Franchise Consultant can streamline the process of launching a new franchise, reducing the time and effort required to set up and run a successful business. They can also help investors connect with the right franchisors, negotiate favorable terms, and access the tools and resources necessary for success. Below are the five common roles of a Franchise Consultant for E2 franchise investments:
Assessing the investor's financial and personal goals
A Franchise Consultant helps E2 investors determine their personal and financial goals, assess their strengths and weaknesses, and identify their ideal franchise match. The consultant may use a proprietary assessment tool or conduct a thorough consultation to understand the investor's goals, budget, experience, and personal preferences. The objective is to provide the investor with a list of franchises that align with their goals and have a high probability of success.
Providing information on the E2 visa application process
A Franchise Consultant company assists investors in understanding the requirements and qualifications for obtaining an E2 visa through franchise ownership. This includes assisting with the visa application process, providing legal and regulatory requirements guidance, and helping the investor navigate the E2 visa process. The consultant thoroughly understands the E2 visa requirements and, with an immigration lawyer, can provide customized guidance to help the investor achieve their immigration goals.
Helping conduct due diligence on franchise opportunities
A Franchise Consultant evaluates franchise opportunities, including market research, franchise disclosure review, and financial analysis. The consultant can assist with site selection and franchisor negotiations and guide the investor on owning a franchise, including start-up costs, ongoing expenses, and revenue projections. This helps the investor make an informed decision and ensures a smart investment.
Offering ongoing support and guidance
A Franchise Consultant provides ongoing support and guidance throughout the franchise ownership journey, including business planning, marketing, and ongoing operational support. The consultant can also help the E2 investor navigate any legal or regulatory challenges, guaranteeing that the investor is successful and that their investment meets their goals and expectations.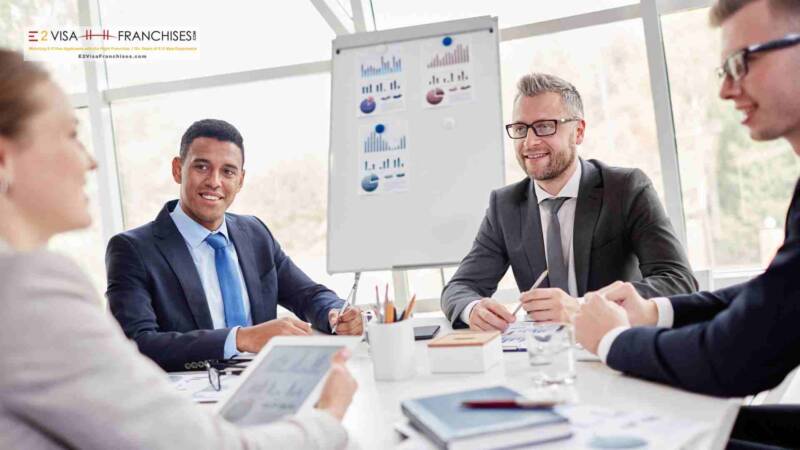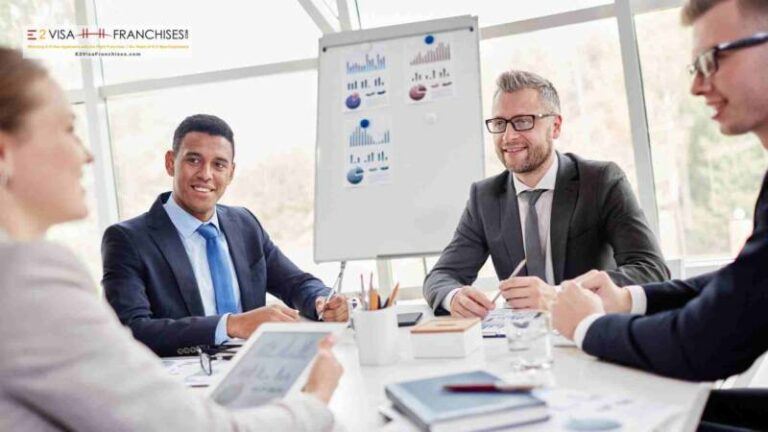 Why should I work with a franchise consultant?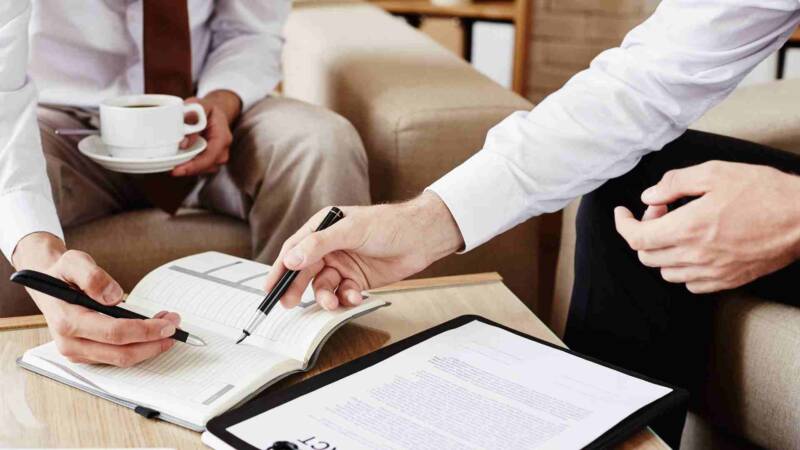 Top Three Benefits Of Working With Franchise Consultant
A Franchise Consultant can provide numerous benefits for individuals looking to invest in a profitable and successful franchise through an E2 visa. The following are the top three benefits of working with Franchise Consultants:
Franchise Consultants possess specialized knowledge.
When investing in a franchise business, having the right guidance and support can make all the difference. Franchise Consultants have a deep understanding of the franchise industry. They are equipped to provide guidance and advice on a wide range of topics related to franchise ownership, including franchise selection, franchisor requirements, and the investment process.
Entrepreneurs sometimes think that their success in running a profitable business will automatically translate to success in franchising. However, franchising is a unique business model requiring different skills, legal considerations, and operational strategies. Entrepreneurs may quickly find themselves overwhelmed by the industry's complexities without proper guidance. Working with a Franchise Consultant helps investors and entrepreneurs save time and money and avoid the frustration of navigating the franchise world alone.
Franchise Consultants help minimize risks by objectively assessing a business's potential.
Franchise Consultants help minimize risks associated with franchise investments. A Franchise Consultant's key function is to objectively assess a business's potential as a franchise, considering factors such as long-term market potential, track record, and value to potential franchisees. Through their unbiased business evaluation, Franchise Consultant can also assist entrepreneurs in selecting which franchise opportunities align with their goals and resources.
Additionally, Franchise Consultants offer guidance on franchising and the risks involved. They help entrepreneurs evaluate the franchise agreement and disclosure document, ensuring they completely understand the franchise's terms, conditions, and financial projections. Thus, by having a Franchise Consultant, entrepreneurs can understand the risks and be better prepared for franchising.
Franchise Consultants offer a wider range of franchise options and streamlined processes.
With established relationships and connections within the franchise industry, Franchise Consultants can tap into a pool of opportunities that may not be easily accessible to the general public. They have access to franchise systems still in their early stages and well-established brands with proven track records. Franchise Consultant can help investors find a franchise that aligns with their interests, skills, and financial goals by presenting a wider range of options to their clients. This level of personalization increases the likelihood of success and enhances the overall experience of franchise ownership.
Moreover, working with a Franchise Consultant can simplify and streamline finding and buying a franchise. Franchise Consultants guide investors through the complex legal and financial requirements involved in franchise ownership, making the process easier and faster and especially beneficial for those without prior experience with the franchise industry or unfamiliar with the various steps involved in the investment process
You Don't Know Which Business To Go For Your E-2 Visa?
Why is franchising the best option for an E2 visa?
The Best Path Way To Acquire E2 Visa
Investing in a franchise is an excellent way to enter the United States through the E2 investor visa. This investor visa applies to foreign entrepreneurs of countries with a Treaty of Trade and Commerce with the United States. The E2 visa offers a wide range of benefits and opportunities, including unlimited renewals and a potential path to permanent residency. Franchising can be an enticing option for those considering an E2 visa, as they reduce the time and investment required to set up a business from the ground up.
Further, purchasing a franchise is a popular option for starting a business since it is suitable even for those who lack professional experience in a given industry. This is because the franchisor provides all the training and information necessary to run the business and the products and services that will be sold. There are franchise opportunities in diverse industries, ranging from restaurant and retail to healthcare and technology services, with investment levels ranging from around $20,000 to over $200,000.
Whether an investor is looking to grow a sales business by investing in a shopping mall kiosk franchise or considering a restaurant, home healthcare, or tutoring franchise, a knowledgeable Franchise Consultant can help with the E2 visa requirements. Franchise Consultant can greatly increase investors' chances of success in obtaining an E2 visa and starting a successful franchise business in the United States. These professionals understand the complexities of the E2 visa process. They can provide valuable guidance and support, from finding the right franchise opportunity to negotiating franchise agreements and preparing a successful visa application.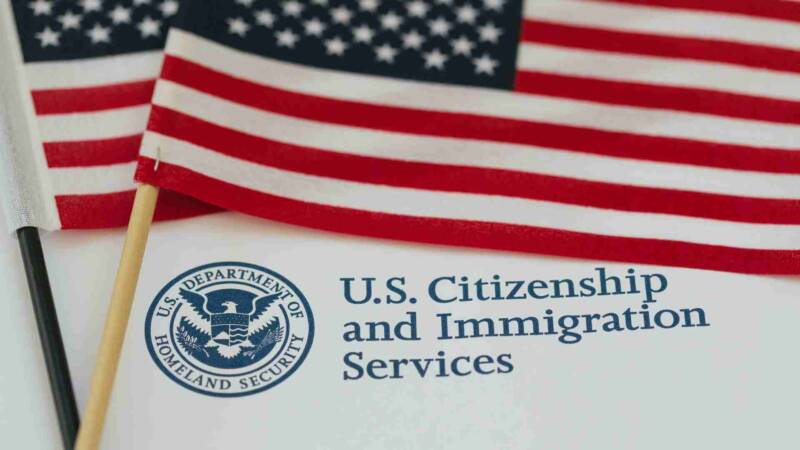 How much is the fee to hire a franchise consultant?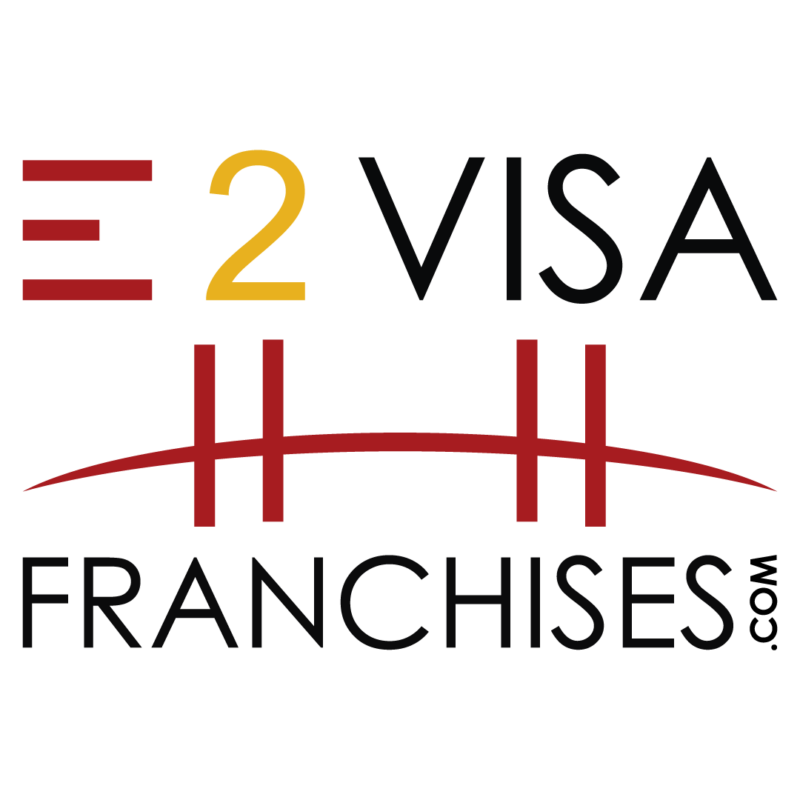 Increase Your Chances Of Operating A Successful Franchise
Unlike other business consultants, Franchise Consultants offer their services for free to prospective franchisees. This means the franchisee can pay for the valuable advice, ideas, and training the consultant provides. Franchise Consultants are paid a commission from franchisors once a deal is closed, incentivizing them to match their clients with the best franchise opportunity available. Doing so creates a win-win situation where they earn an income while ensuring their clients are happy with their new business ventures.
Investing in a franchise can bring numerous benefits, including the opportunity to live an empowered life and create a legacy of which investors can be proud. However, the journey to franchise ownership can be complex and has potential pitfalls, especially regarding the visa application process. This is where a knowledgeable, certified Franchise Consultant can make all the difference. With their experience and expertise, Franchise Consultant can help investors navigate the process, mitigate potential pitfalls, and ensure a smooth transition into franchise ownership. By partnering with E2VisaFranchises.com, you can increase their chances of finding the right franchise and securing an E2 visa, making their entrepreneurial dream a reality. Consult with the best franchise consultant today.
Frequently Asked Questions
What if my investment is below $100,000?
Based on our experience a $100,000 is the best investment to get your E2 Visa. However, we also have other clients who get their E2 with below $100,000 investment. Contact us to get your business assessed. 
How many times can I renew E2 Visa?
You can renew your E2 Visa for as much times as you want as long as you are having a growing business. 
Do I need business plan to apply for E2 Visa?
Yes. In fact, business plan is one of the key element that will make or break your visa application.